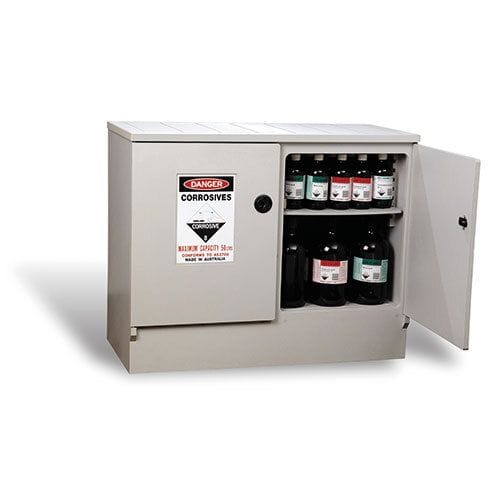 160 ltr Polyethylene Corrosives Storage Cabinet
160 ltr Polyethylene Corrosives Storage Cabinet
Price excl. GST
Flamstores® polyethylene corrosive storage cabinets have a dual compartment design, allowing the safe and convenient storage of acids and bases in one cabinet. They are exceptionally durable, and are completely metal free minimising the likelihood of both damage from corrosion and the risk of dangerous chemical reactions. Doors are self-closing and utilise integrated pivot pins – there are no hinges to corrode. This unit has two separate compartments for acids & bases.
Dual compartment cabinets allow acids and bases to be conveniently stored in one cabinet
Completely metal free for safe long?term storage of the most corrosive substances
Lockable self?closing door with integral pivot pins ? no hinges to corrode
Fully welded from 15mm high density polyethylene
Built to last, with a smart modern profile
Chemical resistance tested by CSIRO
Compliant with AS 3780:2008
Includes all safety signage
Adjustable shelves
CODE

DESCRIPTION

DIMENSIONS (MM)

WEIGHT

MAXIMUM

CAPACITY

SHELVES*

H

W

D

702?1680

Flamstores 160 ltr Poly Corrosive Substance Storage Cabinet

Ext.

1225

985

470

93 kg

160 ltr

4

Int. (EA)

985

460

430
* Number of shelves includes base level.