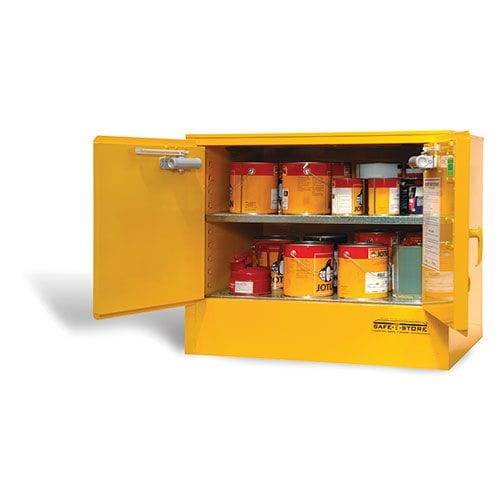 Flamstores 100 ltr Class 5.1 Oxidising Agent Safety Cabinet
Flamstores 100 ltr Class 5.1 Oxidising Agent Safety Cabinet
Price excl. GST
The FLAMSTORES® range of internal safety cabinets provides everyday safe storage for most classes of Dangerous Goods and is fully compliant with legislative requirements.
Class 5.1 Oxidising Agent - AS 4326:2008
The storage and handling of oxidizing agents
Smooth action self-closing and self-latching doors, incorporating a patented and trouble-free sequential closing system
Strong fully adjustable shelving perforated for free air movement, 100mm height adjustment increments
Built in flash arrestors and vent openings (for mechanical ventilation systems)
Corrosive cabinets are supplied with a PVC shelf tray for every shelf level
State of the art powder coat finish for high durability and performance
Stainless steel pin continuous hinging for strength and reliability
Available for various classes of dangerous goods
High capacity liquid tight sump to contain spills
Distinct safety signs and directions
Manufactured in Australia
Cabinets can be customised to suit other classes - please contact us if you require more information.
DESCRIPTION

DIMENSIONS (MM)

WEIGHT
MAXIMUM
CAPACITY
SHELVES*

H

W

D

Flamstores 100 ltr Cabinet

Ext.

800

920

615

65 kg
100 ltr
2

Int.

553

838

535
* Number of shelves includes base level.