Argyle Commercial - Homebush Bay Bridge Project
Posted by Rick on 4 September 2015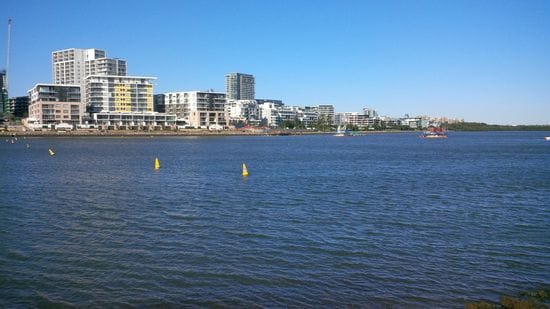 Down at Homebush Bay, an exciting new development is being constructed by VSL Brady Marine JV: a multi-million dollar bridge across the Bay to provide public transport, pedestrian and cycleway connections between the emerging communities of Rhodes and Wentworth Point.
No small feat of engineering, this bridge will be approximately 300m long, 11m wide & 9m high at its highest point.
Argyle Commercial was asked to supply a price for supply of silt curtain to contain and manage disturbed sediments. From the outset, we knew the customer was looking for a heavy duty silt curtain solution that was going to work and stand up to the deceiving conditions of Homebush Bay.
We were told that "whilst the conditions in Homebush Bay (Sydney) are relatively still, we will have to relocate the silt curtains on several occasions so it is imperative that these curtains are of good quality not like the sacrificial type."
After an initial site meeting, our Heavy Duty Silt Curtain was selected as the product to use. This was due to several considerations including:
The project is in a high profile area, and in full view of multiple high rise apartments (no room for incidents!)
Varying tidal and current conditions
The health of the bay (sediment is infused with heavy industry metals and chemicals).
All up, Argyle Commercial supplied over 350m of silt curtain, 30 anchors and mooring assemblies, and large yellow marker buoys with solar lights complete with mooring assemblies for project demarcation.
Argyle Commercial are able to supply a complete range products to ensure your next project is a success!
Post comment