The Ultimate Clean-Up Duo
Posted by Melissa on 8 March 2022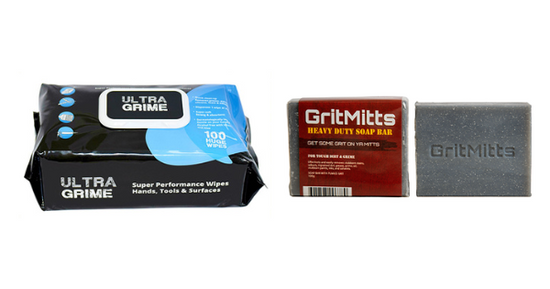 Today we'd like to cover two products that are very good at clean-up:
Ultra Grime Industrial Wet Wipes and GritMitts Soap Bars.
Ultra Grime Wipes are a massive wipe (250mm x 380mm) that are brilliant for cleaning tools, hands, and almost any surface. They are dermatologically tested, and are very effective at removing stubborn oils, paints, silicones, greases, inks - pretty much anything. They are low foaming and honestly just very handy to have around. With strong and flexible packaging that survives the daily grind; there 100 wipes to a pack and 6 packs to a carton. From now until the end of the month, when you spend over $1,000 in an order, we'll send out a packet for you to try! Or buy now on our website: Ultra Grime Industrial Wet Wipes.
And now for the GritMitts Soap Bar. This product is a natural, Australian made, heavy-duty pumice-grit bar. A great alternative to the discontinued Solvol Soap Bar, this product is fantastic at removing grease, oils and paints from your hands without drying out your skin. Combining the cleansing power of pumice and natural citrus oils, this product leaves your hands feeling moisturised and clean. Check out the Aussie Repair Guy's review here. Buy now on our website: GritMitts Soap Bar.
Thanks for reading! ?
Post comment