The Right Way to Handle Spills in Chemical Labs
Posted by Rick on 1 September 2017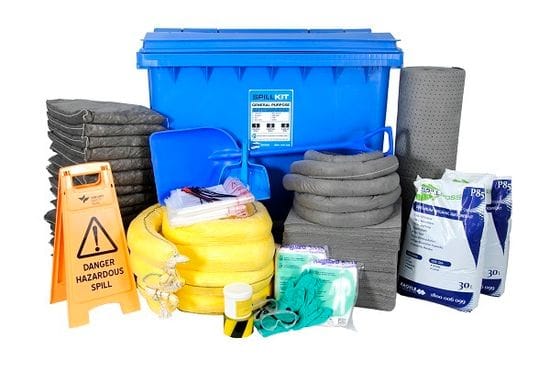 The same way a painter uses a canvas for their art, a scientist's channel for their masterpiece is their laboratory. The lab is home to the revolutionary breakthroughs in modern medicine, skin care and even culinary discoveries. While magic does happen in the laboratory, it doesn't make it safe from spills.
Chemical containers are highly prone to breakage as is any other glassware. Simply being knocked off a table could cause a chemical spill, which could be dangerous if mishandled. Argyle Commercial has designed a wide range of spill kits that address various spill concerns, from oils to chemicals. Here's the right way to use them:
Warning Calls
In the event of an accident, alert your colleagues about the spill in the lab and tell them to avoid the area. Contact spill response specialists and give them necessary information such as your location, the kind of spill and your contact details.
Protective Garments
Before containing the spill, make sure you and your colleagues are fitted with protective apparel. This includes masks, gloves, goggles or any other article of clothing that protects the body from caustic or acidic liquids.
Spill Control
Using the contents of the spill kit, contain the running liquid and prevent it from contaminating the work site further. Create a dyke around the edges of the spill then use the absorbent pads to soak the liquid. Our kits also have mini-booms to stop the liquid from spreading.
Disposal
Pick up the used absorbent products and place them into the disposal bags that come with the spill kits. Avoid placing them with normal rubbish you might increase the threat of flames. Seal the bag with a tie and wait for the spill response team to decontaminate your lab.
For an intensive listing of our spill response products, feel free to browse through our website or call us at 1800 006 099.
About Us: Since 1997, Argyle Commercial has been a leading supplier of spill response equipment, dangerous goods storage and engineered silt curtain solutions. We help customers comply with environmental and OH&S regulations, making work environments safer and more risk free.
This blog post is intended as a guide only, and should not be relied upon as professional and/or legal advice. Argyle Commercial will not be held liable for any damages or losses caused by using information provided in this post as a basis for any decision where any such damages or losses may result.
Post comment