Permanent Boom Systems - Case Study
Posted by John on 19 September 2014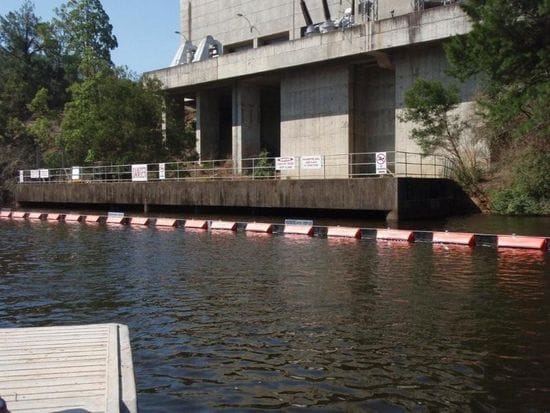 How do you prevent waterborne access to a potentially dangerous area? Install a permanent boom system.
As the inflow/outfall area of a clients' hydro-electric plant was on a popular recreational water body, there was a need to prevent access by waterborne leisure craft. Initially our client looked at installing a line of buoys, but then the decision was made to look at options that were more of an obstruction to watercraft, including kayaks and canoes.
Our successful proposal was based around a boom system using heavy duty, rotomolded floats fixed to a heavy duty conveyor belt material. The floats used were foam filled, providing peace of mind even if the floats are punctured they will still float and the fabric was treated with marine growth inhibitors, ensuring years of trouble free service. Signage was also fixed to the boom at the customer's request.
Due to the modular system used, damaged parts and even whole sections of the boom can easily be replaced if ever required.
Very high flow rates and water heights are experienced when the river is in flood, so the decision was made to have an open topped compensator on the upstream end, meaning the boom would readily float loose and pivot on the downstream anchor when needed. During one event shortly after the installation the flow rates actually pulled the downstream anchor out of the rock it was grouted into, but the boom was no worse for wear. Thankfully the river height didn't exceed the capacity of the upstream compensator!
Argyle and its subcontractors assembled and installed the entire boom system, including the anchor/compensator setup. Installation required only two short, trouble-free days, and was carried out from land and water.
Post comment