Palerang Council - A Chemical Storage Solution
Posted by John on 12 December 2014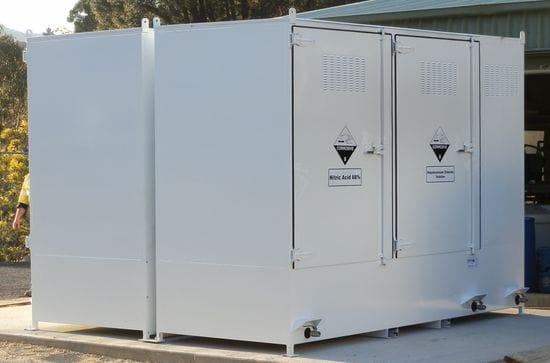 What do you do when you have a problem with chemical storage, and you need a highly customised solution? Try Argyle we are able to design and build storage to your requirements.
A council in regional NSW had a real problem they were storing water treatment chemicals with the equipment used for dosing, and due to damage from fumes were having to replace expensive fittings and electrical equipment.
They asked us if we could help out, and after looking into the relevant Australian Standards and site requirements and restrictions we offered a solution. Input from the client resulted in a few minor changes, and then we were commissioned to supply the units required.
To ensure compliance with the relevant Australian Standard (AS 3780-2008, The Storage and Handling of Corrosive Substances) tanks are now stored in individually bunded compartments. Compartments are separated by bulkheads, and are fitted with polyethylene sump liners and FRP grating. For longevity the units have been finished inside and out with a paint chosen for its resistance to the chemicals being stored. There is also provision for the pipework required for the dosing system.
Now the chemicals are kept safely in custom designed external relocatable stores, and the fumes no longer damage expensive equipment a win on both counts!
Post comment