Outdoor Hardtop Storage: Weatherproof Polyethylene Bunds
Posted by Rick on 8 September 2017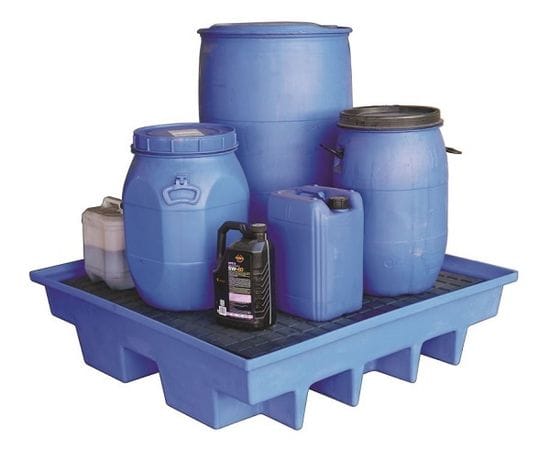 Argyle Commercial provides spill containment units that double as outdoor storage. The outdoor hardtop storage, in particular, is from a range of weatherproof polyethylene bunding systems for drums or IBC containers. They give superior security and spill protection while providing an ergonomic storage solution.
Spacious Storage
Our hardcover outdoor bunds have extra space under the hood for pumps and funnels. The bunds for drums come in a range that can safely store one to twelve 205 litre drums. For IBC tanks, you can choose a unit that can store two or four 205 litre drums.
Easy access
The outdoor hardtop storage has roll-top covers, allowing users to open and close the unit easily. The overhead space allows you to conveniently access the drums' tops for pumping and filling. Each unit has swing out doors at the front, allowing for the easy loading and unloading of containers.
Ergonomic Design
Our weatherproof polyethylene bunds are designed with the users' health and ease of work in mind. The roll-top covers can be lifted from a normal height, eliminating the need for users to bend over and reach for a lid from a low level. The dual enclosure allows several workers to access drums from either side. The low-profile position of the containment pallets allows users to safely and easily pour contents with funnels or drum pumps.
Robust and Secure
As the bunds are made from polyethylene, they also offer excellent chemical resistance, so they will not rust or corrode. The units can be locked so the containers can be protected from unauthorised access and from animals.
With an outdoor hardtop storage from Argyle Commercial, your resources are protected from the weather and unauthorised personnel, and you are prepared for spills. Argyle Commercial also provides other spill containment products such as portable bunding, spill mats and chemical bunds. Call us today for optimum bunding solutions.
About Us: Since 1997, Argyle Commercial has been a leading supplier of spill response equipment, dangerous goods storage and engineered silt curtain solutions. We help customers comply with environmental and OH&S regulations, making work environments safer and more risk free.
This blog post is intended as a guide only, and should not be relied upon as professional and/or legal advice. Argyle Commercial will not be held liable for any damages or losses caused by using information provided in this post as a basis for any decision where any such damages or losses may result.
Post comment