Do Your Bunds Comply?
Posted by Tim on 11 July 2014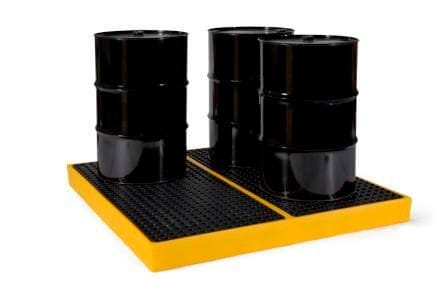 There are many rules and regulations regarding the storage of liquids in packages (e.g. up to 1000L IBC's), but if you are looking for a portable bund solution for a non-permanent storage situation a general rule of thumb to assist in selecting the appropriate bund is that it should contain either 110% of the largest container, or 25% of the total stored, whichever is greater.
| | | | | |
| --- | --- | --- | --- | --- |
| | Total Being Stored | With 25% Rule | With 110% Rule | Suitable Bund |
| One IBC | 1000L | 250L | 1100L | Single/Dual IBC Bund |
| Two IBC's | 2000L | 500L | 1100L | Dual IBC Bund |
| One 205L Drum | 205L | 52L | 226L | One/Two/Four Drum Bund |
| Two 205L Drums | 410L | 103L | 226L | Two/Four Drum Bund |
| Four 205L Drum | 820L | 205L | 226L | Four Drum Bund |
As shown in the table above, the 110% rule determines the minimum capacity for each storage situation in each example.
If you need a larger bund, say for several IBC's, our portable bunds are a possible option as they can be custom made to suit your requirements. These bunds are extremely portable, for example a 1.2 x 1.2m bund fits in a 500 x 500 x150mm carry bag when not erected. For further information on these please see our blog post "Portable spill bunds: the easy way to temporarily store drums".
MAKE SURE YOU BUY COMPLIANT BUNDS FROM ARGYLE!
This blog post is intended as a guide only, and should not be relied upon as professional and/or legal advice. Argyle Commercial will not be held liable for any damages or losses caused by using information provided in this post as a basis for any decision where any such damages or losses may result.
Post comment