Argyle Commercials Marine Spill Kit and How to Use it
Posted by Rick on 29 August 2014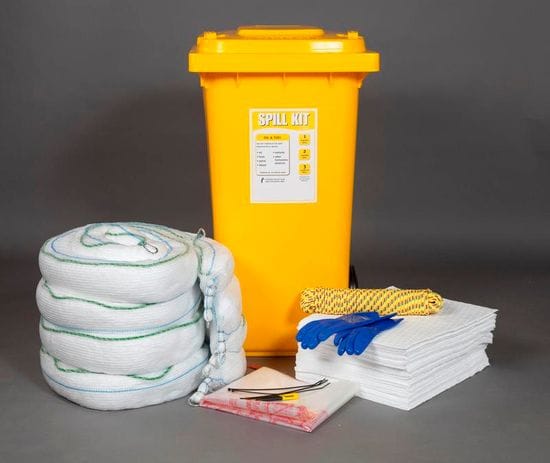 Our Marine Oil-only Spill Kit comes packed full of premium organic and polypropylene absorbents to absorb any oil and fuel spill in a marine environment.
It is very popular with construction projects and includes the following products:
Absorbent Marine Booms

Organic Loose Absorbent

Absorbent Pads

PPE & Disposal Equipment
All absorbents supplied in this spill kit are suitable for use on land and water.
How to use the absorbents supplied in the spill kit:
Marine Absorbent Booms
There are four 125mm x 3m absorbent marine booms supplied in our marine spill kit, and they can be used to both contain and absorb spills. Our booms have integrated snap hooks and d-rings for easy joining and fast deployment – booms can be clipped together to create a single, longer length if required.
When responding to a spill on water one end of the boom should be attached to an anchor point (e.g. post/rail/tree) and the boom deployed to contain and absorb spilt hydrocarbons; it is best to angle the boom across the water so as to direct the spill to single point for recovery and cleanup. On land place booms in front of or around drains, and surround leaking drums and containers to prevent the spill from spreading. Booms will need to be placed downhill from the spill if the ground slopes. All spills should be diverted away from drains, stock or equipment and into an area where the spill can be cleaned up.
Organic Loose Absorbent
Three 30L bags of our loose organic granular absorbent are supplied in our marine spill kit. It can be used to absorb hydrocarbons on both land and water, but as it is very lightweight it needs to be spread on the upwind side of the spill.
When using the loose absorbent to respond to a spill on still or flowing water be sure to deploy a boom downstream (or downwind) to capture the floating absorbent. Screened forks, skimmers, skimmer shovels and suction devices can be used to remove oil-saturated absorbent from the water. On land the absorbent can be used to contain spills, or tossed evenly over spilt liquids and swept/pushed into the spill with a brush or shovel to ensure complete absorption.
Absorbent Pads
Final absorption of a spill should be carried out using pads, but only once containment is complete. Pads should be left in contact with the fluid for about two to three minutes or until saturated. You can also use oil absorbent pads to wipe down clothes, hands, floor and any items contaminated by the spill.
PPE and Disposal
As with all Argyle Spill Kits, the marine spill kit is supplied with PPE and disposal equipment – PVC Gloves for hand protection and hazardous waste disposal bags for disposal of used absorbents. Make sure you always dispose of used absorbents correctly, in accordance with government, corporate and project regulations.
This blog post is intended as a guide only, and should not be relied upon as professional and/or legal advice. Argyle Commercial will not be held liable for any damages or losses caused by using information provided in this post as a basis for any decision where any such damages or losses may result.
Post comment