Are Your Outdoor Bunds Compliant?
Posted by John on 1 May 2015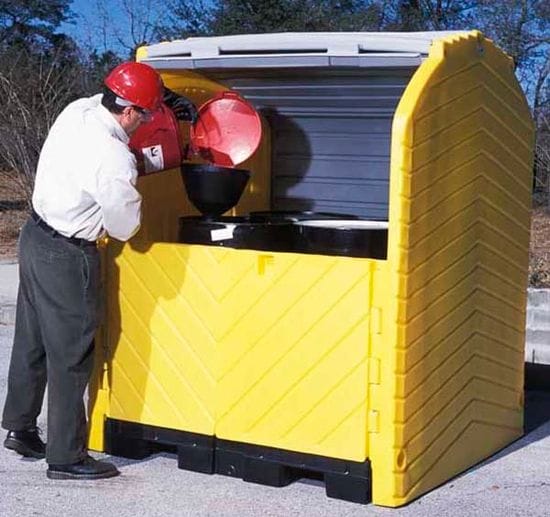 Sure, you may store your hazardous liquids on compliant bunds as required by EPA regulations, but are they kept outside?
Outdoor bunding can quickly become non-compliant during rain events as the sump fills with water. As the water level rises, the actual storage capacity of the bund drops.

The storage capacity of an outdoor bund can drop quickly during a rain event, leading to a non-compliant bunding solution. Yes the bund sump may be able to hold over 110% of the largest container when dry (an EPA requirement - check this blog for more information), but as the sump fills with rainwater, the remaining capacity will no longer meet requirements. So how can you prevent this? There are a few options:
Regular sump pump-outs when it is raining. But who will do it at night, or on the weekend? And where will you store what becomes waste water, if there is any chemical already in the sump?
Pull over PVC covers these are available to suit two and four drum, and single and dual IBC bunds. They will fit almost any brand of bund, and can also be custom made to suit a specific requirement. A simple, effective and cheap solution.
PVC covers and galvanised frames are also available to suit our standard two and four drum, and single and dual IBC bunds. Fit is not guaranteed on alternative brands; if required, custom units may be manufactured.
Hardtop bunds numerous designs available, including single, two and four drum, and single IBC units. Both the four drum and single IBC units are modular, so multiple bunds can connected together. Extremely robust, very effective, and easy to use.
Relocatable stores. Both standard drum and IBC units are available, or we can design and manufacture units to suit your unique requirements. See this blog for more information.
Will your bunding become non-compliant in the next rain event you have? Will you risk a spill incident or an EPA fine? Call Argyle Commercial today for advice on compliant storage.
Post comment