Are You Prepared?
Posted on 9 January 2015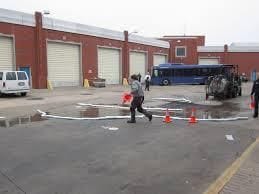 Often we are told to learn from our mistakes, however it's even better to learn from the mistakes of others! This way we save time and money, while eliminating the stress involved in incident response. And most spills eventuate from the slightest of mistakes.
Take the following situation: A company rolling metal into various products used feed lines with filling nozzles to transfer oil to the rolling machines. One afternoon a staff member did what he had probably done many times before: he held the nozzle handle open using the tank lid. However, this time he walked off at the end of his shift forgetting that he was partway through refilling the tank. When the new shift walked on, the first thing they had to do was respond to a large spill. So when handling liquids, don't be distracted and don't take shortcuts either.
Another time, in another place. A truck was involved in a minor accident, and the resultant spill was quickly moving towards a drain. With no other equipment to use, the truck driver actually used his own clothes to block drain! This prevented the spill getting into our waterways. So in spill response, use what you have on hand don't stand there doing nothing because you don't have the proper equipment. But obviously, don't put yourself into a dangerous situation either.
Even locally, a manufacturing company was loading a truck when fork tines went through a fuel tank. The spill ran down drive and onto the street, but thankfully the local Fire Brigade was called, and the spill was quickly (and safely) contained and cleaned up. So call for specialist help if required and make sure you at least have the equipment on hand to contain any spill you are likely to have.
Do you have what you need to handle liquids correctly? And safely respond to spills as they happen?
Post comment