5 Products Everyone Cleaning up Oil Spills Should Be Using: Part Two
Posted by Rick on 31 August 2016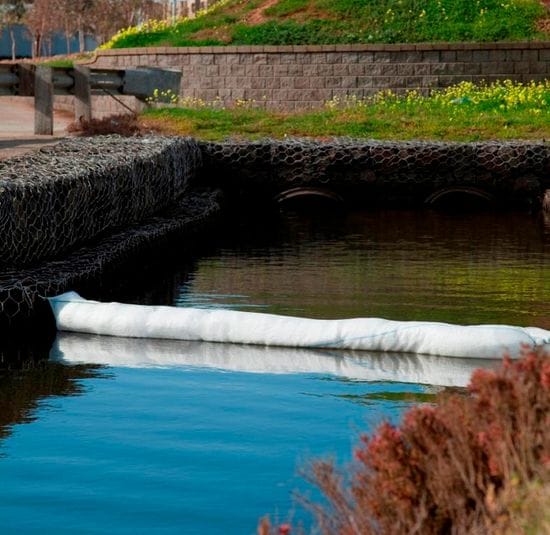 Oil Absorbent Rolls
Oil Absorbent Rolls are great for oil spills on land or on the water. As an oil and fuel absorbent they don't absorb water making them the perfect absorbent for a marine environment. The absorbent rolls are dimpled for strength, and perforated for convenience and economy of use.
Use our oil and fuel absorbent rolls in the workshop, at your manufacturing site, for absorbing train spills, and anywhere else you might need long rolls of oil absorbent material!
Oil and Fuel Absorbent Marine Booms
When oils and fuels spill in a marine environment, they need to be cleaned up fast.
Our Oil and Fuel Marine Booms are made with a strong mesh outer sleeve encasing a poly sock filled with highly absorbent polypropylene (oil absorbent material). For added strength, there's a nylon rope running through the boom, ensuring long lasting durability and easy retrieval for the user.
Oil and Fuel Marine Booms are hydrophobic (they only absorb oil, and won't absorb water), a critical feature which keeps the marine booms afloat while in use.
Our marine booms can be linked together with easy-to-use connectors to form a containment system big enough to handle almost any spill.
Also available is the Oil and Fuel Double Boom, which has been designed for those times when extra absorbency is needed. It is the same as our standard marine booms, except there are two poly socks of absorbent, rather than just one.
Best suited for calmer waters, you can use these marine absorbent booms in lakes, estuaries, harbours and ports, rivers, dams and anywhere else you experience a spill on water. They have proven popular for absorbing spills on marine construction sites, at power stations, on boats, in ports and more.
These also make up part of our popular marine spill kits.
About Us: Since 1997, Argyle Commercial has been a leading supplier of spill response equipment, storage solutions for hazardous liquids and engineered silt curtain solutions. Since 1997, we've been helping customers comply with environmental and OH&S regulations, while making work environments safer and more risk free.
This blog post is intended as a guide only, and should not be relied upon as professional and/or legal advice. Argyle Commercial will not be held liable for any damages or losses caused by using information provided in this post as a basis for any decision where any such damages or losses may result.
Post comment